Get started
Bring yourself up to speed with our introductory content.
Translating Linux for IBM i admins: Using GUI to make it easy
Using a GUI Web interface to manage Linux on your AS/400 can save you the hassle of learning a new command language. Webmin is a free administration tool that allows Unix and Linux administration from a Web browser.
This is the third part in a series of tips that aims to introduce IBM i administrators to Linux commands by "translating" the language. In part one of Translating Linux for IBM i admins the author introduced readers to how the Linux command line system works compared to IBM i, with specific focus on user profiles on Linux versus i. In part two, the author focuses on working with jobs and networking.
Administering Linux using Webmin
What I've done in the previous two tips is show you Linux commands, and you may be thinking, "What a pain!" Well, I've shown you the dirty bits, now it's time to show you the fun or easy way to do the work. If you really like the Linux command line – this tip is not for you. This tip is for those that want a nice interface that makes life easy, but that doesn't cost a lot. You have options, they are free and pretty nice. Webmin is a Web-based tool you can install on your Linux server and administer Linux using a Web-based GUI. How cool is that?
From the Webmin site:
"Webmin is a Web-based interface for system administration for Unix. Using any modern Web browser, you can setup user accounts, Apache, DNS, file sharing and much more. Webmin removes the need to manually edit Unix configuration files like /etc/passwd, and lets you manage a system from the console or remotely."
I found this tool shortly after I learned to love and hate the command line. It's a true life-saver, and in my opinion, it is well worth the cost of admission.
Lets take a quick look at what it looks like, and I can assure you it's easy to install. If you are using Red Hat or SuSE on Power, all you need to do is download the RPM and use the rpm command to install it. By default, Webmin is going to run on the server you installed it on, listening on port 10000, so the URL would look like this:
http://localhost:10000
When you look at users on Linux with Webmin it is pretty easy to read, select and edit from the Users screen.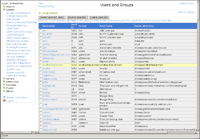 Creating users can be a hassle on the command line, and it's one of those things system admins do the most. Webmin makes creating users easy and efficient with all the options at your finger tips. Let's take a look at what that might look like: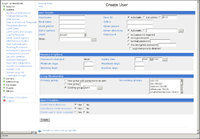 Webmin is a Linux users tool, and I assure you it's very powerful and very easy to set up.
Now that we've explore the command line, and a GUI alternative, you can see that Linux is not hard to understand or move to as an System i admin as it would be for say, a Windows administrator. IBM i admins have the concepts and tools they need to comprehend and take advantage of the benefits of the Linux OS. With a little bit of practice, a fair amount of Google and some nice free tools like Webmin you should be able to manage Linux like a true Linux geek.