"Time" saving programming tips for iSeries
Do you want to know how to synchronize your iSeries' clock to NIST standards and have distributed PCs synch up to your iSeries? This tutorial on iSeries clock managment shows you how.
If I want a system to start something at a specific time, I don't ever tell it "around 8:15pm do this." I need it done at 8:15pm! We're no longer in an age when our systems can stay out of touch with the actual time. How can we do this without requiring the operator with the coolest digital watch being assigned to a spectacularly mundane task of setting the clocks on the PC's and on the AS/400's daily? Have the AS/400 synchronize with the NIST standards then have those PC's synchronize to to the AS/400 … but how do we do that?
Step one: Get the PTF
In March nearly everyone in the U.S. had the amazing shock of an extra hour taken away (or given back – I always get that mixed up!) because of Daylight Saving Time (DST). OS/400 has been equipped with a new set of standards for time zones which deal specifically with Standard and DST. The IBM website has a link to program temporary fixes (PTF) and information explaining the DTS changes that are a result of the Environment Protection act of 2005 Download DTS PTF for i5 or iSeries).
Once these PTF's have been applied, your system sets DTS automatically. No more early morning telnet sessions with the servers the morning your own clock radios are messed up.
Step two: Program iSeries self-setting feature
Program OS/400 to set itself using the internet to the "standard time" CFGTCP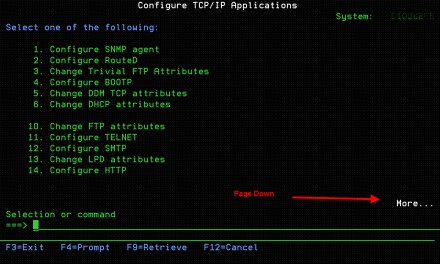 You'll see Handy dandy Option 19 Take it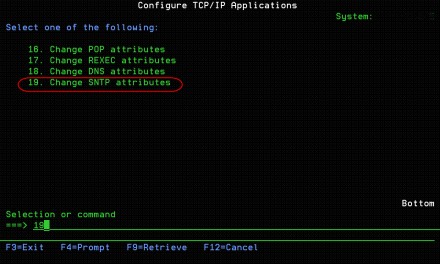 And set your NIST Time server – I chose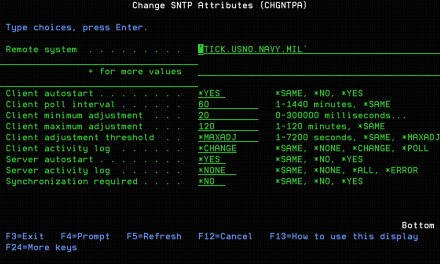 Note that you can use multiple clients to poll from.
Now there are two servers working here: the "Client" to get the information and a Server to tell your systems how to set themselves. Yes – how, you say?
By pointing your PCs to your iSeries or i5 you will force it to set the time from it. So go to the PCs command line and look at the "NET TIME" command as follows;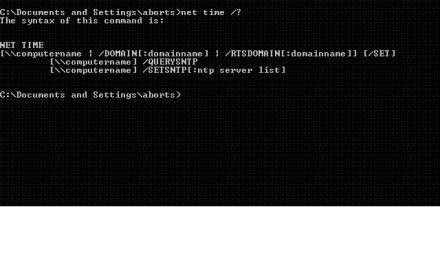 So if you'd like your PC to point to your server and synchronize it's time, you'd simply type ; NET TIME /SETSNTP xx.yy.zz.aa
where xx.yy.zz.aa is the address of your iSeries or i5. To force the PC to set itself again, type ;
NET TIME /QUERYSNTP
To stop and restart the PC's Time service type;
NET STOP w32time
NET START w32time
Like what you see? Now set your watch to your server!

Dig Deeper on Physical connections to iSeries