Problem solve
Get help with specific problems with your technologies, process and projects.
Step-by-step PTF download determination
System i expert Kenneth Graap offers this step-by-step instruction for using IBM's Fix Central downloads center to get the PTFs your iSeries needs.
The following is a question from the IBM System i user community:
Continue Reading This Article
Enjoy this article as well as all of our content, including E-Guides, news, tips and more.
I recently installed V5R3M0 on my i5 520 DBCS Machine. I haven't installed PTF(s) yet and I don't know which one(s) to install. When I check WRKPTFGRP it is shows "No PTF groups found." Can you give me some suggestions?
If this sounds familiar, then this step by step tutorial on how to download PTFs may be useful. Even if you're an old pro, it might not be a bad idea to hang on to these instructions for future reference.
The best place to start is to go to Fix Central and download the latest Cumulative Group, along with the latest HIPER Group.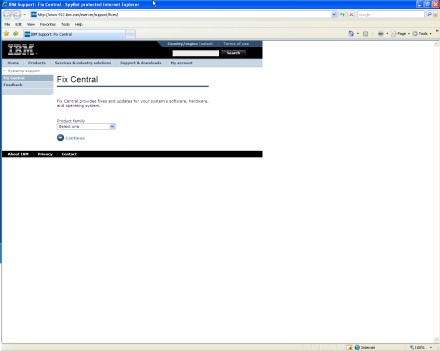 Once there, select:
Product Family: System i Family
Product: 5/OS and OS/400
Ordering Option: Groups HIPER, cumulative fixes
OS Level: V5R3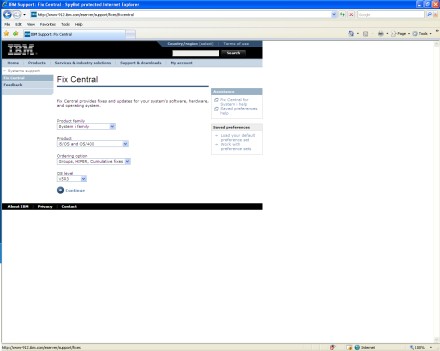 Click Continue to sign in. You may need to set up an IBM ID. If so, click on register; otherwise, enter your ID and password, then click continue
At this time you will be presented with a list of Group, HIPER and Cumulative PTFs. While holding down the Ctrl key on your keyboard, select SF99530 and SF99529 , then click on the "Add to my download list" button.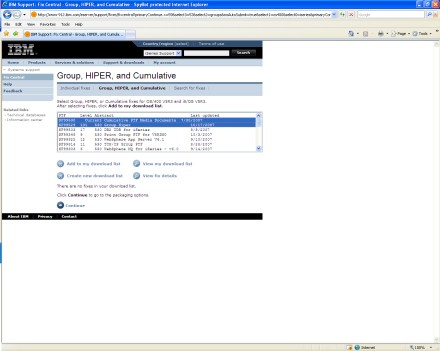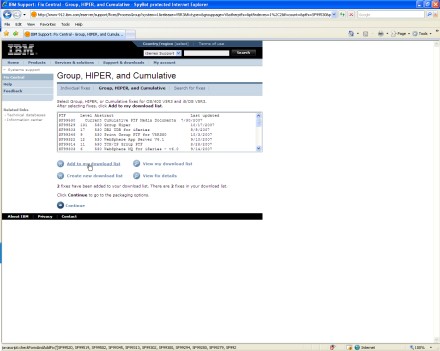 The next screen will ask you how you want to get these PTFs. What is great about Fix Central is that you can download these PTFs directly to your iSeries system.
Select the option "Connect to my system and continue ordering," along with "Order only PTFs required by the system to which I am connecting." Click on Continue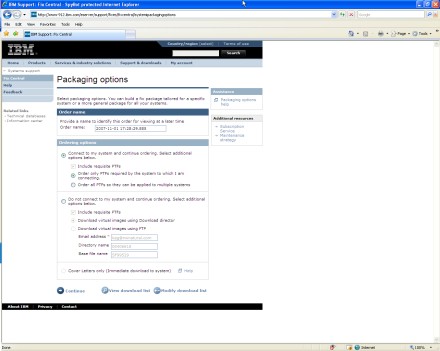 A JAVA Applet will start and will ask for the IP address of your iSeries, along with a user ID and password. Specify an *ALLOBJ user ID to avoid an authority problem with the download process. Click on Continue.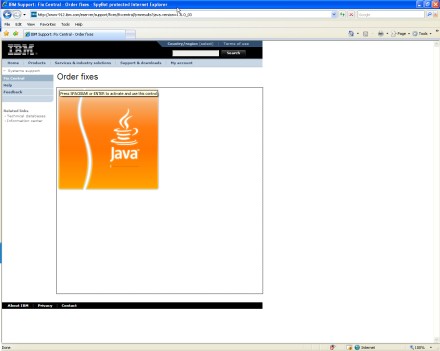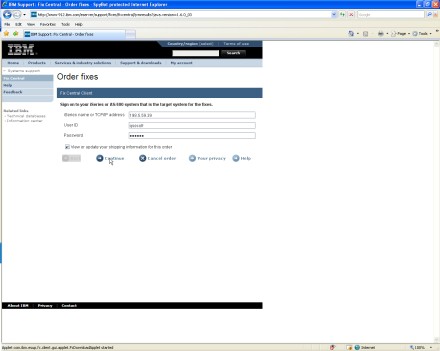 If you connect to the Internet through a Proxy Server that requires authentication, you will be asked to supply your User ID and password.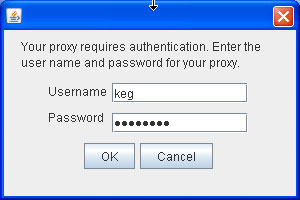 If you don't have a Proxy Host for Internet access, you will immediately be taken to the Contact and Shipping Information screen. Verify your contact information and click on Continue.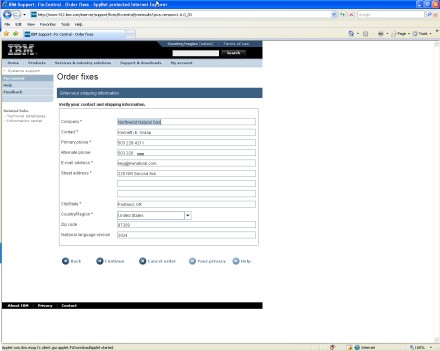 OK ... We are almost done! Isn't this fun?
The next screen will let you select your download options. You can either choose to download the PTFs directly to your system (I recommend Downloading CD-ROM images using Download Director) or you can request that they be mailed to you. Make your selection and click Continue. Your order will be processed. This may take a few minutes, so be patient.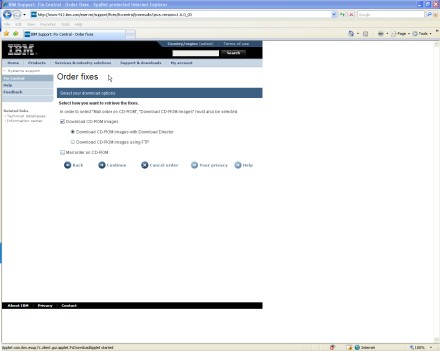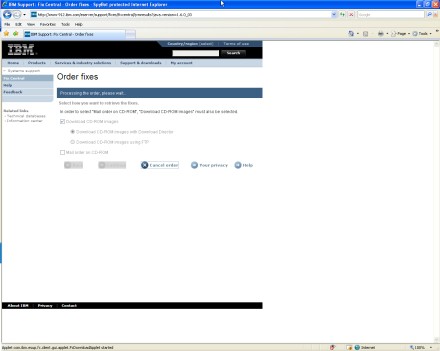 The next screen is a summary screen. It tells you that your order has been sent to the download server and when it is expected to be ready. Wait until the time indicated and then click on "Download fixes when they become available."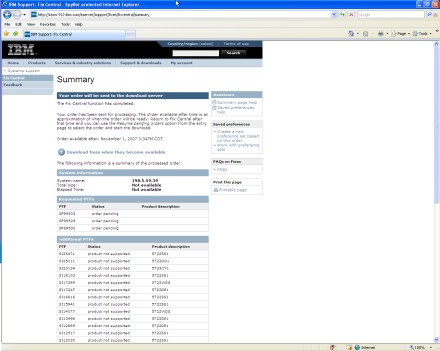 The next screen will ask you to Resume the Order. Select the Order Name and click on Continue.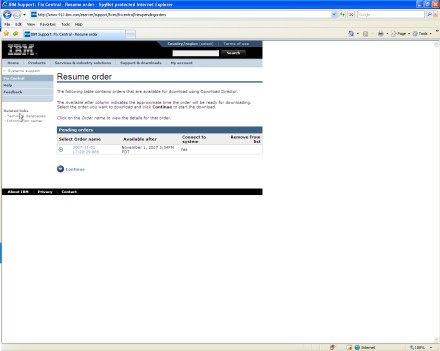 Another JAVA Applet will start. You will need to supply a password again. Then click on Continue.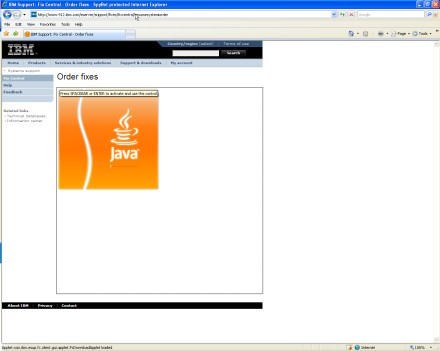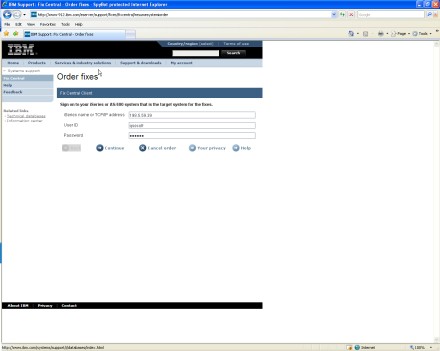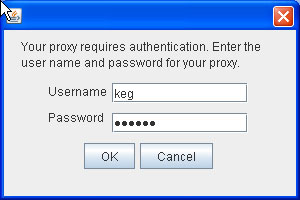 Specify where you would like the CD-ROM image and instructions for installation files placed on your iSeries or just accept the default: /QIBM/UserData/service/FixCentral/ .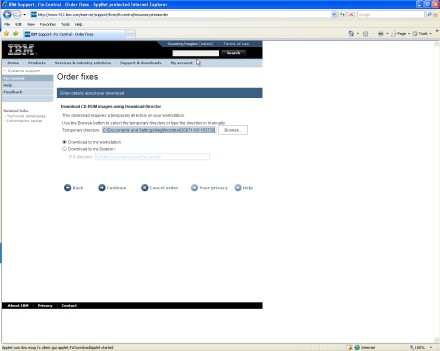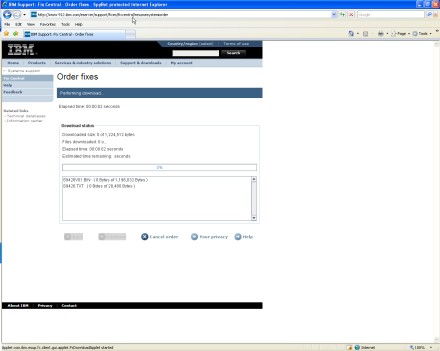 When the download is complete, review the installation TXT file for instructions on how to apply these PTFs to your system.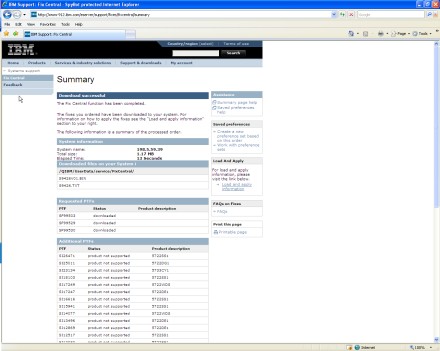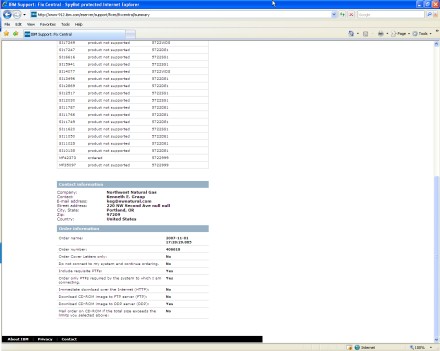 All done!
I'd also recommend that at a minimum, you repeat this exercise every month for the HIPER Group and a couple times a year for the Cumulative Group.
Good Luck!
ABOUT THE AUTHOR: Kenneth Graap has worked in the IBM S/38, AS/400 and System i arena since 1984. His most recent position is that of senior IBM System i administrator at Northwest Natural in Portland, Ore. He has extensive experience in all aspects of System i management. Kenneth has implemented solutions using several IBM System i management tools, including BRMS/400 (Backup Recovery), IJS/400 (Job Scheduling) and is a big fan of iSeries Navigator.