Manage
Learn to apply best practices and optimize your operations.
OpenOffice: What to know before making the transition from Microsoft Office
Learn how OpenOffice Write compares to Word, as well as how OpenBase compares to Access. Get advice on how to work with departments in your company to make the switch from Microsoft Office to OpenOffice. Helpful tips are offered, like letting the administrative assistant to the President keep PowerPoint and Word to reduce friction.
This is the second installation of a two-part article that reviews OpenOffice, the open-source suite from Sun Microsystems. In part one, Jim Mason introduced the applications and key features of the open-source office suite. Here, he will describe how the Writer and OpenBase applications function and gives some guidance on making the transition from the Microsoft Office suite to OpenOffice.
How does Writer work compared to Word?
Writer is the word processor that comes with OpenOffice. Everything I did in Word, I can do in Writer. Changing the load and save options makes it easy for a Word user to automatically use Writer and still keep documents etc in a compatible Microsoft format. You can easily set the Options > Load / Save.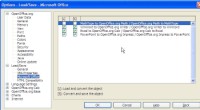 Click on image for larger version
As I mentioned earlier, some shortcut keys have different assignments in Writer than in Word but it's easy ( Tools > Customize ) to change key assignments quickly to match Word.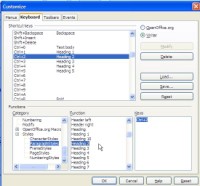 Click on image for larger version
A few other customizations I found helpful:
Creating a Writer template with the same key and index defaults as Word
Assigning keys to demote and promote levels in numbered/bulleted lists like Word
That's it. It has been an easy change for me.
How does OpenBase compare to Microsoft Acess?
This application is similar to Microsoft Access. You can
Create a standalone database of tables and views
Access any corporate database using an ODBC or JDBC driver
Query data in the database
Generate database forms for entry and update of data
Create reports to report on data
One caveat: Base is not a useful replacement for your System i DB2/400 database. It is nice that non-technical users can easily access DB2/400 quickly for simple viewing and reporting without a lot of work by the IT department. It also can be a helpful tool when users are prototyping a new application to visualize the data model and simple data access.
It's easy to add JDBC drivers to Base. IBM provides the Java toolbox free on the System i. The toolbox has an excellent JDBC driver in the jt400.jar file to access all your DB2/400 data. I added a MySQL JDBC driver using Tools > Options > Java > Add Archive the same way you add the jt400.jar file for DB2/400.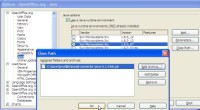 Click on image for larger version
Once the right JDBC driver is added, it's easy to configure a connection to the database. After opening a MySQL Sample database, I could access tables ( and views ), run data queries, create database forms and reports easily.
Making the move to OpenOffice
I was fortunate in moving to OpenOffice. It was easy for me to pick up all the different applications quickly. I'm technical and I have many years of experience with Microsoft Office applications.
My best success in my migration to OpenOffice was my son, Sky. He's a high school freshman who uses Word heavily and Excel at times. He's also set in his ways at times. When he got a new computer, I decided it was worth trying to move him to OpenOffice to save the $500 on Microsoft Office. I explained we would use a different set of office applications on the new computer. I did one other thing. I set the options to read and write documents, spreadsheets and presentations to the default Microsoft Office document types for Office 2000. Sky never lost a beat with OpenOffice. He used it without any issues for all of his homework assignments, term papers etc.
OpenOffice resources
Content Goes Here
If you think there's an opportunity for OpenOffice in your company, you'll need to define a strategy for implementation. Adding OpenOffice for select groups as an alternative to Microsoft Office is a less disruptive path in most cases than trying to replace Microsoft Office. Groups that are dedicated to using just Office and don't want to change, don't have to.
Tips to make implementation easier in your business:
Try it out with a small group of users to learn what works well and what doesn't
Decide where it fits easily and target that group of users first
Find the right champions in your company who will support the migration
Minimize the changes users face with templates and keeping the Microsoft Office document formats initially
Setup an internal wiki support site to answer questions, provide tips, promote successes
Leverage the large OpenOffice support community on the Web
Let the President's executive assistant keep Power Point, Word.
Let the controller keep Excel.
If it's meant to be, they'll move in time.
Try it. You may like it. I was surprised how easily people have made the switch.
Follow the tips here to minimize the learning curve. If you are moving beyond a test group of users, explore Sun's support plans and solutions to help ensure success. Typically, those support plans are a fraction of the cost companies pay Microsoft for licenses and support today. One company I worked with spent over $10 million per year on Microsoft Office. Moving just 25% of your users to OpenOffice may result in big savings for your business in addition to the other benefits above. In a tough economy, that may be a smart move for your company.
About the author:
Jim Mason is Engineering Services Director at ebt-now, a System i Web specialist delivering: architecture, development, implementation, support, and training services for IBM System i Web and Enterprise Open-Source solutions. Beyond Web solutions and delivering QuickWeb skills transfer workshops, Jim is president of the virtual IBM WebSphere Community Edition user group – IBM's free version of WebSphere for all platforms.