Evaluate
Weigh the pros and cons of technologies, products and projects you are considering.
Lazy coder: What does PHP on the i5 mean?
PHP, MySQL and other Web-based System i developer tools have made headlines in recent months. But what are they, and what do they do? ISeries programming expert Andrew Borts gives the rundown on these tools that are changing how System i is used.
So you're looking for technology to get yourself onto the Web. The i5 is a very Web-friendly box now, offering many ways to serve content to the Web. The Web (unless you've been under a rock!) offers many opportunities to serve your customers and your business relationships.
How about creating a globally available functionality for your business-to-business relationships? What if you had a supplier in Asia that needs to alert you of a shipment's fulfillment? There are many ways to get the technology in front of that person. However, the browser interface is universal now.
Web screens aren't foreign to anyone entering basic information. The web is available on phones, on PCs and on MACs. Even MP3 players with Wi-Fi, such as the iPhone and iTouch, have Web browsers. But how your individual business harnesses this interface is up to you. I'm using the Web to make an easy-to-use interface with almost non-existent training. This a very nice place to write software for everyone to use.
Which is the best Web technology to use?
There are many technologies available on the i5 that can get your company on the web. PHP (and MySQL) are the most exciting additions, and have been since i5 was first on the Internet. Why? There is an amazing number of already functional, already created open source solutions that use MySQL and PHP.
These tools are a huge jump start. All you need is the Zend Core system (free download; charge for support) and MySQL (also a free download), which give you a leg up on developing some great software for your company. Tools such as Content Management Solutions, with which it's no longer necessary to edit your company's HTML-based home page, can give departments access to their individual information and allows them to update it on their own schedule.
Just so you're not surprised, you will need to become less squeamish about entering AIX commands within the OS/400 to install Zend and MySQL. The following are the requirements to get this up and running:
V5R3 Minimum OS level

(for V5R3 – PTF SI25802 is required)

Zend Core for i5
PASE Environment – or 5722-SS1 Option 33
QShell - 5722-SS1 Option 30
System Openness Includes – 5722-SS1 Option 13
Digital Certificate Manager – 5722-SS1 Option 34
IBM Portable Utilities for i5/OS 5722-SC1 *BASE Option
OpenSSH/OpenSST/ZLib 5722-SC1 Option 1
Cryptographic Access Provider 5722-AC3 *BASE Option
So what can you do with PHP and MySQL?
Any software that runs with those two things (after proper installation) will run on an iSeries running the "Install" for the package. So within, say, an hour, you can have a home page for your corporation that could look like this: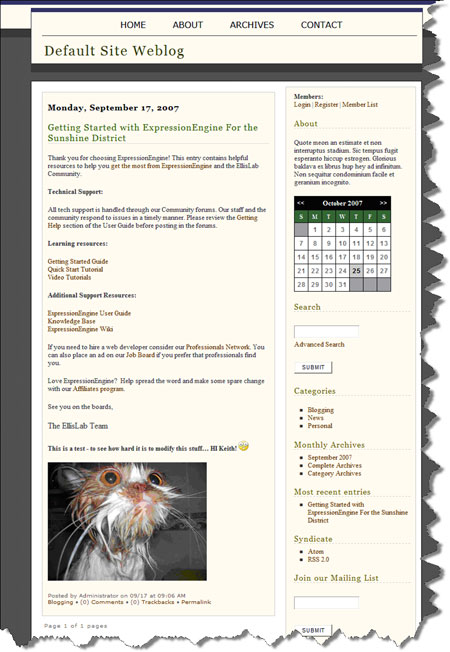 Expression Engine is a fantastic CMS package that lets people modify their own Web page content without being a Web publishing expert, and without modifying a single Web page. The content is the key.
Another neat recently released tool is from Business Computing Design (BCD Software) -- Websmart for RPG folks. They created a tool to create PHP program shells that are fully functional within minutes. I've been playing with this tool, and it's amazingly intuitive! If you're clever, you may not have to create much custom code just to insert the numerous business rules you may need for functions to work.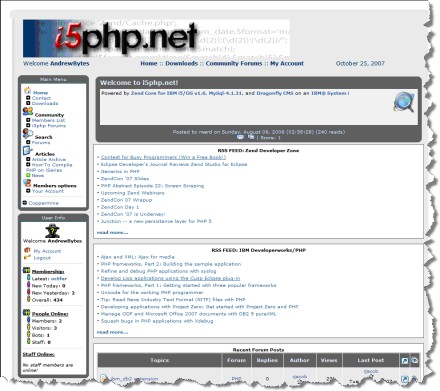 Examples abound on the Internet, but so are sites that provide help. I5php.net is a great resource that was created using an i5, PHP, and MySQL.
But a quick caveat: MySQL has some pitfalls. For instance, you should be comfortable with typing commands in AIX. If you're not comfortable, I don't recommend straying from the examples given.
ABOUT THE AUTHOR: Andrew Borts is webmaster at United Auto Insurance Group in North Miami, Fla. He is a frequent speaker at COMMON and is past president of The Southern National Users Group, an iSeries-AS/400 user group based in Deerfield Beach, Fla.