Manage
Learn to apply best practices and optimize your operations.
How to make secure iSeries connections
iSeries programming expert Andrew Borts discusses how to make secure connections to your iSeries with the SSL Telnet, VPN Tunnel or even a handheld portable device when on the road.
For all of you that may or may not know me, I'm an avid barbershop singer. But there have been many times when I needed to perform and cover my company's best interests at the same time. Many performances are on the weekends, but I still need to answer my company's questions, make sure Web servers run, and make sure that our company is covered. How do I do this without staying home? Through lots of electronics!
First: Connecting to your iSeries securely
SSL Telnet has been around for quite some time. It allows us to telnet into our systems quite securely. Use a secure channel to place your system on the internet. But only allow the secure "telnet" by giving out individual SSL certificates that ONLY your system can access. So – if you don't have a ticket, you can't board the train!
You can find this in the Digital Certificate Manager (DCM). Assign certificates to OS/400 TCP/IP Telnet Server. You can also create a custom certificate that only YOU have and use for connecting.
Another method, is to create a secure VPN (Virtual Private Network) Tunnel that you can connect to and maintain your iSeries with complete knowledge that you will be secured from anyone trying to peek at that data stream.
Secure iSeries connections with small devices
Lets talk about what's in your hand when your wife or husband calls. Yup – more and more phones are equipped with keyboards then ever before.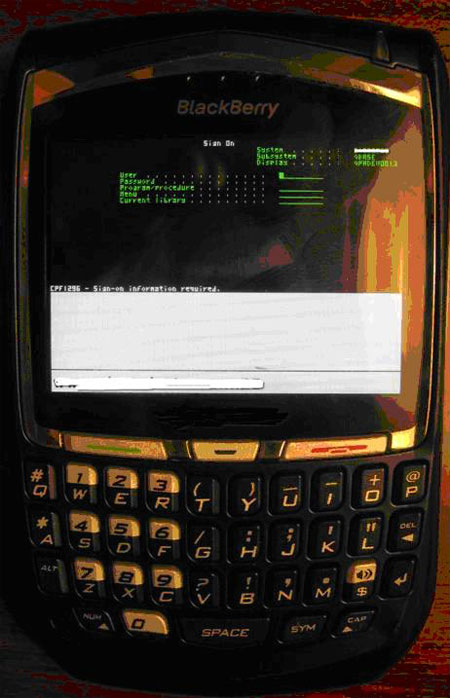 What does this take you ask? This takes a few different software packages – One called Mobile SSH by idokorro for Blackberry phones, or Mocha Soft, which offers software for Treos and other smart phones.
Tips for safely getting online
Where are you? Most airports have Wi-Fi hotspots. However, there are things to think about when connecting in public places:
Turn off shared anything – now is not the time to be generous with access to your systems.
Make sure your anti-virus software is up to date.
TURN ON YOUR INTERNAL FIREWALL!

If you don't have a firewall built into your operating system, please download a software package called ZoneAlarm or similar. These packages ask before giving access to EVERY connection made in or out of your system. Turning off the communications going OUT can save you from nasty "Trojan horses" that slide out of your systems using hidden ports that people don't use normally.
More ways to get online
Many cell companies now have cell phones that can become a cell modem for a computer using a USB cable to connect them. So – share the data plan between your computer and your Cell phone. Flavor two of this – buy a cell modem card for your PC. Many are now coming built into some laptops, and ultra portable computers.
What is in the future? Smaller high density memory cards are now coming out; meaning small "Ultra portable" computers with the same capacity as your current desktop computers and desktop replacement laptop computers. However, without a motor running, battery life will skyrocket. The batteries don't need to get better, the hardware will.
-----------------------------------------
ABOUT THE AUTHOR: Andrew Borts is webmaster at United Auto Insurance Group in North Miami, Fla. He is often a frequent speaker at COMMON and is past president of The Southern National Users Group, an iSeries-AS/400 user group based in Deerfield Beach, Fla.