Evaluate
Weigh the pros and cons of technologies, products and projects you are considering.
IBM System i APIs at Work, Second Edition -- Chapter 10
Application programming interfaces (APIs) can add value to your business if they're properly implemented. Check out the free chapter "IBM System i APIs at work" download courtesy of MC Press and Search400.com for valuable information on API messaging.

Messages are an integral part of working with i5/OS. Read Chapter 10 of IBM System i APIs at Work and learn valuable information, including how to send messages from your application program and how to search for messages in a message file.
---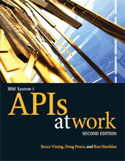 Book description:

Bruce Vining's IBM System i APIs at Work, Second Edition is your guide to making sense of and mastering the APIs available with System i. In the book, Vining explains a range of APIs, including list APIs, APIs that work with user spaces, APIs to retrieve system values, job information and job queue information APIs, APIs to work with data queues, and many more. Each chapter contains business-world examples that you can modify to fit your environment.
In recent years, the business world has realized the impact information systems have on business effectiveness. As a result, programmers are expected to use high-level encryption to store sensitive information, to write interfaces between Microsoft Windows and System i RPG applications, and to integrate business applications with the Web. This book can show you how to use APIs to do all of this and makes the case that APIs are one of the most powerful tools in your programming toolbox.
Want to learn more about System i APIs? Buy the book from MC Press.


---
Dig Deeper on iSeries system performance and monitoring