Evaluate
Weigh the pros and cons of technologies, products and projects you are considering.
Using geocoding on AS/400 to enhance your Web presence
Geocoding application programming interfaces from mapping tools such as Google Maps can be integrated with System i to help customers using your websites navigate to your company's location. Not only can geocoding drive traffic to your organization, but it also adds an interactive element to your Web presence.
Online applications for AS/400 can help expand your knowledge and make your job easier. Consider the ability to...
Continue Reading This Article
Enjoy this article as well as all of our content, including E-Guides, news, tips and more.
By submitting your personal information, you agree that TechTarget and its partners may contact you regarding relevant content, products and special offers.
You also agree that your personal information may be transferred and processed in the United States, and that you have read and agree to the Terms of Use and the Privacy Policy.
incorporate maps into your Web applications. How many times have you thought about using an onsite map to drive traffic to your company's location(s)? What if you could personalize the experience to indicate users' locations and show them how to navigate to you? That way you could increase your presence with geocoding and mapping tools and offer personalization to your customers.
Geocoding tools are not language-specific, but knowledge of JavaScript and XML are important to the layout of the mapping application. Your Common Gateway Interface (CGI) applications -- written in Java, JSP, PHP or any i5 CGI software development tools -- can use these external application programming interfaces (APIs) to make your company look good.
Mapping services, such as MapQuest and Google Maps, provide APIs or programming tools to integrate your websites with theirs, often using Web techniques such as Asynchronous JavaScript and XML (Ajax) to create the link. These tools can give interactive capabilities to your Web application -- it's like using a software program installed directly on your local computer. Because the Web browser is adept at showing formatted output using Cascading Style Sheets and HTML to give you the results, Ajax can greatly simplify your Web software packages.
MapQuest, Google and Yahoo's APIs offer services that can bring out your lazy programming skills. They have features like the one that puts pins in your map to highlight specific locations and uses a different colored pin to represent your company and the customer's current location – adding a "you are here" component, so to speak.
Example: Google pins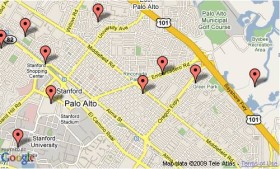 Click to enlarge.
Example: MapQuest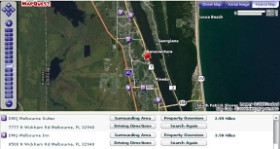 Click to enlarge.
Both online API choices offer geocoding, which is the ability to turn an address into a specific map location. This is very important, since asking your customers for their latitude and longitude could prove difficult.
Let's outline this application so you can get a better idea of what it has to offer. For example, you have a customer who's looking for your closest location to him. First, you have to geocode all addresses that are going to be displayed on the map (as described earlier). Second, you need to calculate the distance between your address and the customer's address, either by writing your own routine or using the built-in tools.
Note that this form of calculation uses a straight line between the two points. If you need additional instruction, the formulas and tools are very well documented on the Web. Remember, this isn't the exact mileage. In areas with many one-way roads, customers could be located within a few hundred yards but may still need to travel farther than that to get to you. Use "about" when describing distance to customers -- as in, "The store is about five miles from your location."
Once this is laid out (and your customer service personnel have been prepped), you can also sort the output for the customer by those calculated miles. Once that's complete, as a finale, you can have your representative or customers (over the Web!) click the location (the pin on the map) and see directions appear in the same window or in a new one.
Online geocoding applications contain a wealth of other features, such as the ability to show satellite imagery, which can give customers a different view of the area they are trying to navigate. In my company's case, our central call center is using geocoding to accurately describe areas that the representatives may not be familiar with. You can limit the satellite display within your application using the setup tools.
ABOUT THE AUTHOR: Andrew Borts is webmaster at United Auto Insurance Group in North Miami, Fla. He is a frequent speaker at Common and is past president of The Southern National Users Group, an iSeries-AS/400 user group based in Deerfield Beach, Fla.
Did you find this helpful? Write to the editor about your IBM i concerns at Editor@Search400.com.