As a member of Search400.com, you're entitled to a complimentary copy of Chapter 3 of
Fundamentals of Technology Project Management
written by Colleen Garton and Erika McCulloch and published by MC Press. This chapter, "
Project initiation
," will help you to become a more effective, more efficient IT project manager.
---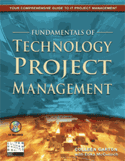 Book description:

Successful project management is increasingly vital to all organizations, driven by the demands of global competition, rapid technological growth, and faster time to market (just to name a few). For those in technology fields, project management skills are fast becoming a required core competency. And those who have mastered these skills continue to be in high demand worldwide, commanding higher salaries than those around them. But how does one extend those skills or acquire them in the first place? Fundamentals of Technology Project Management is a great place to start.
With Fundamentals of Technology Project Management you will:
Discover the top ten reasons projects fail


Master the five keys to project success


Explore the six phases of the project lifecycle, step by step


Review the documents necessary for good project management and learn how to complete them


Understand the warning signs of a project in trouble and learn how to get it back on track


Learn Quality Management and Quality Assurance practices in easy-to-understand terms


Acquire practical ways to develop effective leadership and team-building skills

>> Read "Chapter 3: Fundamentals of Technology Project Management now.

>> After you've read the chapter, test yourself to see how much you know.

>> Want to learn more about Fundamentals of Technology Project Management? Buy the book from MC Press.



---
This was first published in March 2006